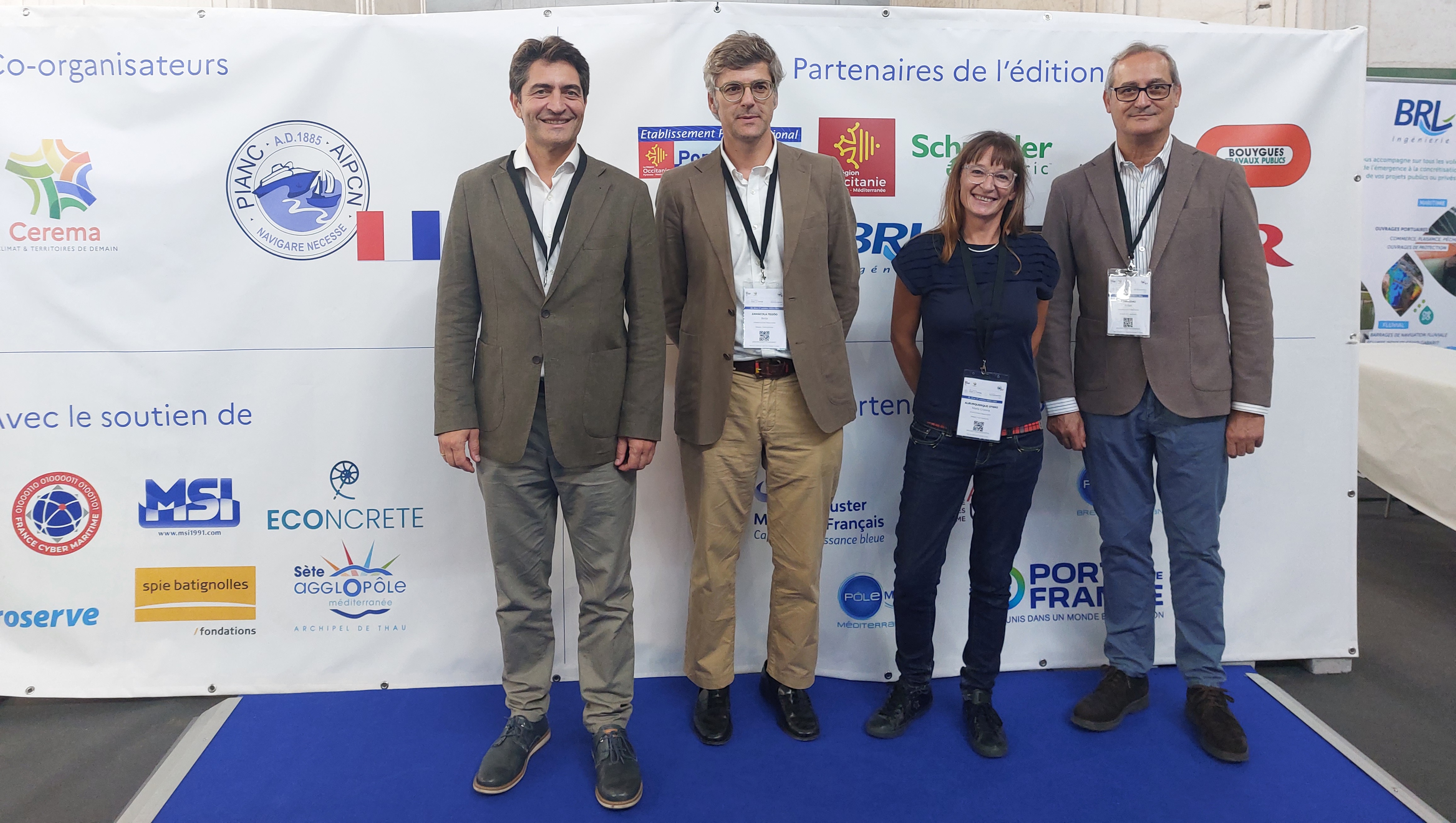 Three APB projects for air quality improvement in ports recognised as European success stories
PIANC hails Balearic Island ports as role models for their digital transition
Sète, França
27/10/2023
Environment and CSR
Transport and infrastructure
The Balearic Islands Port Authority (APB) port air quality monitoring and improvement projects were presented as success stories at the 13th PIANC Mediterranean Days international congress. Air quality monitoring, electrical ship connection and satellite pollution detection are showcased as digital transition examples for ports on a European scale.
The World Association for Waterborne Transport Infrastructure (PIANC) organised this congress in the French town of Sète from 25-27 October under the title "Port of the Future". The congress technical committee chose three presentations from the APB to show them to the professionals who work in the most technologically advanced ports in Europe and North Africa.
Jorge Martín, head of Quality, Environment, Innovation and CSR at APB, said that this presence at PIANC's Mediterranean Days international congress "is a European recognition of APB's strategic and environmental policy."
Port sensors
The first of APB's three innovative projects designed to improve port air quality is the air quality monitoring system and the smart environmental platform for real-time air pollution monitoring in the ports of Palma, Alcúdia, Maó, Eivissa and La Savina. This project includes rolling out 25 monitoring stations at port facilities. In fact, it was recently awarded the international prize for the best air quality monitoring network at the 2022 Air Quality & Emission (AQE) trade fair.
The APB has been working since 2016 to improve a digital platform based on the principle that what cannot be measured cannot be managed. Today, this platform provides real-time air quality data and alerts to identify pollution hotspots at the five public ports it manages and to calculate the back trajectories of any pollutant identified by the sensors.
Cold Ironing is another project that is already a reality in the port of Palma, which refers to connecting ships to shoreside electrical power at berth. This system makes it possible to supply low and medium voltage electricity to ships docking at the quay closest to the city of Palma, which reduces gas and noise emissions while the ship is docked. It represents the first medium-voltage connection of its kind in Spain. European funds have been obtained thanks to this first project to electrify five more docks, two in the port of Eivissa, one more in the port of Palma, one in Alcúdia and another in Maó. The work is valued at approximately 12 million euros, forty per cent of which will be subsidised by European funds.
Satellite control
Lastly, the EIFFEL project is an EU-funded innovative venture that uses satellite imagery to proactively detect pollution spikes by cross-checking it with information obtained in situ from port activity. APB's sensor network measurements are used to calibrate these images and provide air quality data that is not only limited to the port of Palma but encompasses the entire island of Mallorca.
The team representing the APB at PIANC's Med Days international congress was made up of Jorge Martín, Head of Quality, Environment, Innovation and CSR, Cristina Alburquerque, Head of Environment, and Rafael Grau and Borja Zamácola, Heads of Infrastructures.
PIANC is a politically neutral non-profit organisation established in 1885, whose mission is to pool international expertise in innovation applied to the sustainability of marine infrastructures, with a strong focus on combating climate change and promoting respect for nature.